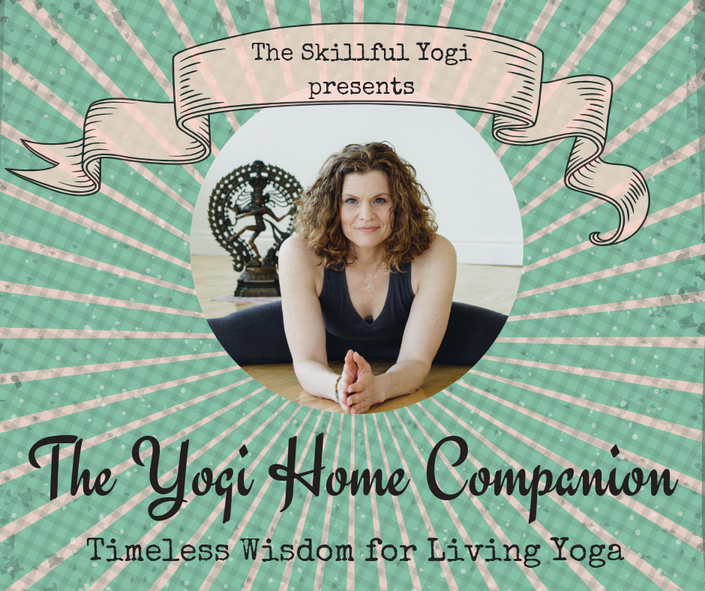 The Yogi Home Companion
Timeless Wisdom for Living Yoga: Included in Membership
INTRODUCING THE YOGI HOME COMPANION: TIMELESS WISDOM FOR LIVING YOGA
"Don't you know..
that talking about a revolution
sounds...
like a whisper?"
- Tracy Chapman
Why I created this new (almost) daily feature exclusively for Skillful Yogi members:
We all talk about wanting to live our yoga, but how we do it, exactly?
By remembering to lift our chest and roll our shoulders back when typing at the computer?
Is living yoga about remembering to breathe in tense moments?
When we're inspired to do something nice for someone else, free of expectation, does that mean we've gone and done it, we've lived our yoga?
Of course, living our yoga is all this, and so much more. It's something I think about almost every darn day, how can I make less and less separation between practice and the rest of my life? Even when life is busy, and time for formal practice is short, how do I still "do" yoga? Because I firmly believe, as a dear teacher once told me, that, "yoga is a path that takes all of us with it, no part gets left behind."
Yes, yoga is a complete path, if we choose to make it so. Shall we get to it?
There's a lot of cheap, often loud "wisdom" being broadcast out there. Quotes, memes, videos all designed to blast inspiration into our lives. And they do work, I find, to uplift us, for at least a minute or so.
But the real juice? In my experience it's whispered, not screamed. True wisdom descends sweetly, quietly, like the whisp of a feather against your cheek, or a sweet bird song, or the sound of a gently flowing stream.
Because truths that illuminate, that enlighten, that imprint our minds and hearts with lasting inspiration, arise from the expanded, mystical realm beyond the thinking mind, it makes sense then, doesn't it, that they are subtle, nuanced, intricate, and delicate as gossamer butterfly wings.
The Yogi Home Companion is just this. It is the whispered, nuanced voice of the truth, beckoning you home. Like a dear friend, it lovingly reminds you of the power of a simple shift in perspective, and encourages you to step into your true potential and purpose. It is the voice of your highest well-wisher, nudging you toward fulfilling your highest vision for yourself. Like the sunrise, it reminds you of what's possible today, here and now.
The Yogi Companion is a balm to the spirit because it is the voice of timeless wisdom that is our own, that belongs to everyone. From my heart to yours.
It's the voice that welcomes you home.
Your Instructor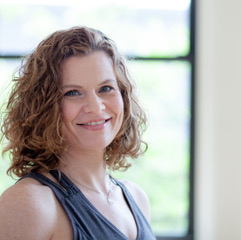 Barrie Risman is widely regarded as one of Canada's most highly skilled yoga educators, teacher–trainers and mentors. She is well known for her ability to convey the essence of the wisdom teachings of yoga with exceptional clarity, insight, and relevance to students of all levels and from all walks of life.
Barrie's teaching weaves together the technical precision of refined alignment-based practice with an ever-present awareness of the great wisdom of yoga philosophy distilled from decades of intensive study and practice.
Teaching for close to 2 decades, Barrie shares the depth of her experience and knowledge to reveal a uniquely accessible, authentic and integrated approach to yoga. She empowers students with tools to deepen their understanding and inspires them to embrace asana as a path for expansive self-discovery and inner growth.
Barrie's forthcoming book, Evolving Your Yoga: Ten Principles for an Enlightened Practiceis a guide for teachers and continuing students to deepen, expand, and integrate the benefits of yoga in their lives.
A seasoned trainer and mentor of new teachers, Barrie serves on several teacher-training faculties including HappyTree Yoga in Montreal, PranaShanti Yoga Centre of Ottawa, and Shakti Yoga in Geneseo, New York. She is the creator of The Skillful Yogi professional development courses, retreats and mentoring programs for yoga teachers.
Barrie was the co-founder and co-director of Shri Yoga, Montreal's seminal place for the practice of Alignment-based, Heart-centered Hatha Yoga from 2011-2016. From 2003-2012, she was a Senior Anusara Yoga teacher and teacher trainer. Barrie led Anusara Yoga events throughout Canada, the US and internationally and served on the Anusara Yoga Teacher Certification Committee from 2006-2012, mentoring new teachers toward certification.
She has been a dedicated student of Iyengar Yoga for more than 25 years. She continues to study regularly with her primary mentor, Kevin Gardiner, a senior Iyengar Yoga teacher and co-founder of the Iyengar Yoga Institute of New York.
From 1997-2003, Barrie served as a full-time staff member for the SYDA Foundation in India and the US, immersed in the study and practice of all the traditional yogic disciplines.
Barrie is the proud Co-creator and Co-director of the World Spine Care Yoga Project, whose mission is to bring the benefits of posture, breathing and mindfulness as a tool for pain management and active self care to low mobility populations around the world.
Click here for Barrie's full CV.
Frequently Asked Questions
When does the course start and finish?
The course starts now and never ends! It is a completely self-paced online course - you decide when you start and when you finish.
How long do I have access to the course?
How does lifetime access sound? After enrolling, you have unlimited access to this course for as long as you like - across any and all devices you own.
What if I am unhappy with the course?
We would never want you to be unhappy! If you are unsatisfied with your purchase, contact us in the first 30 days and we will give you a full refund.